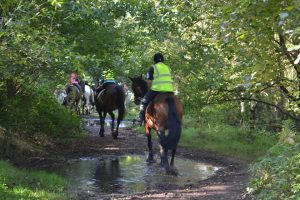 A Social ride of around 2 to 3 hrs around the Briesfield area to kick off the riding summer season. Please meet at Mug Mill Farm.
All riders must complete an entry form, the event  is free for fully paid up members of KGB members, you can join KBG for £5, membership forms are on our website, a rosette will be awarded on completion.
Download your entry form from our web site www.kirkleesbridlewaysgroup.co.uk
You must have third party insurance to attend the ride and must wear fluorescent clothing/tabard.
This event will accumulate miles towards our new annual Chairmans Trophy award for members only.
Direction s to venue (please do not follow sat nav and post code)
From Grange Moor, follow Briestfield Road, right at Low Road, right at Edge Road, right on to Mug Mill Road.
ENTRY FORM FOR THORNHILL SOCIAL RIDE click on this link