Events run and supported by Kirklees Bridleways Group
Upcoming Events:
ANNUAL GENERAL MEETING
Our AGM is on Monday 29th January, 2017, at the The Golden Cock, 2 The Village, Farnley Tyas, Huddersfield. HD4 6UD, starting at 7pm.
This year our post AGM talk will be delivered by Chris Peat, The BHS regional bridleways officer for the North West. Chris will be joined by Lady Mary Townley's daughter, Cosi Townley, and will be talking about her experiences as a BHS volunteer from 8pm onwards.
CHRISTMAS DINNER
Come and join us for the Kirklees Bridleways Group Annual Christmas 🎄 Dinner on Wednesday 13th December 2017, a 3 course meal in the lovely location of Meltham Golf Club, Thick Hollins Road, Meltham, Holmfirth.
Time: 7pm for 7.30pm
Dress: smart (no jeans or trainers)
Tickets: £20
The event is open to members and non-members.
To reserve your ticket:
Ring or text Ros on 07780530550
Email: kirkleesbridlewaysgroup@gmail.com
Payment can be made by cash, cheque or
Bank Transfer information is: Account No: 64248082 sort code 40 25 10
KBG food choice for Christmas Dinner
This is the menu:
Starters
Homemade winter vegetable soup served with crusty bread & butter
Classic prawn cocktail served with homemade Marie Rose sauce & buttered brown bread
Homemade chicken liver pate served with a cranberry & red onion chutney, toast & a salad garnish
Main
3-meat carvery, beef, ham & turkey. Homemade Yorkshire pudding, roast potatoes, seasonal vegetables, chipolata's, homemade stuffing & a rich beef stock onion gravy
Homemade cheese & onion pie (V)
Sweets
Traditional Christmas pudding & brandy sauce
Fig, pear & almond tart served with cream
Chocolate orange & Cointreau tart served with ice cream
~~~
Coffee/tea & mints
MEMBERS ONLY SOCIAL RIDE 5TH NOVEMBER 2017
The ride will start at 11am from Austrialia Farm, Wilshaw, Holmfirth, and is free for fully paid up KBG members.  Please complete the entry form if you are coming.
ENTRY FORM MEMBERS ONLY 5TH NOV 2017
SOCIAL EVENING TUESDAY 10TH OCTOBER, 2017 – 7pm to 9pm
Come and join Kirklees Bridleways Group for a natter and discuss any bridleway issues you may have, we will also have evidence forms available if you need any help completing them.
The event will take place at the 'Exraordinary Pub of the year' The Royal Oak, Linthwaite, Hudderfield, the Royal Oak was the National winner of the John Smith's Only Ordinary by Name Competition..Extraordinary story winning with 500 pump clips on the wall – one for every beer we've ever served in the 16 years running the pub and Paddy McGuinness presented a cheque for £5,000. Landlady Jeanne Brennan is putting a selection of sandwiches on during the evening so if you could tick if you are going, it would help with numbers, we will be there from 7 to 9pm on Tuesday 10th October, 2017
FARNLEY TYAS SOCIAL RIDE 17TH SEPTEMBER 2017  
This Social Ride is in conjunction with the Honley Feast Celebrations. The ride will start at Ivy Farm, Farnley Tyas, Huddersfield, by kind permission of Mr John Dodson.
We have two led rides:
31/2hr starting at 10am
21/4 hr starting at 11am
No entries on the day, please download the entry form from the link below:
The entry fee is £5 for members and £10 for non-members but it will include KBG membership.
Riders must be wearing correctly fitting hat, footwear and HiViz.
Horses must be over 4 years old, no stallions, in good condition and correctly shod or adequately barefoot.
Tack must be in a safe serviceable condition.
All children under 16 must be accompanied by an adult.
The decision of the ride organiser is final.
SOUTH CROSLAND AIRFIELD RIDE 10TH SEPTEMBER, 2017 THIS EVENT IS CANCELLED
As part of the South Pennine Walk and Ride Festival we are arranging a ride on Sunday 10th September, 2017, starting at the The Airfield, Crosland Hill, Huddersfield HD4 7EQ from 10am (plenty of space for horseboxes and trailers).
3 hours and various routes 5-20 miles.    En try fee £10
Several led rides with varying lengths enjoying the stunning countryside of the South Pennines on bridleways and quiet roads.
Pre-entry required see attached form: closing date 7th September
South Crosland Circular Ride entry form 2017
SOCIAL RIDE UP THE WESSENDEN VALLEY 28TH AUGUST 2017
For KBG MEMBERS ONLY, join us for a ride up the Wessenden Valley from Meltham to Marsden and enjoy the beautiful views.
The ride will start at the Carlisle Car Park, Meltham at 10am, arriving at the Old Goods Yard, Marsden around 11.30 to collect anyone from Marsden, then the ride will go up the Wessenden Valley stopping enroute for lunch (please bring a packed lunch), finishing first at Meltham and then Marsden.
The ride is free for members.
Please complete the entry form attached if you would like to come.
Remember you must wear the correct head and riding equipment along with HiViz.
ENTRY FORM FOR WESSENDEN VALLEY SOCIAL RIDE
POlease email your entry to kirkleesbridlewaysgroup@gmail.com
MARSDEN SOCIAL RIDE 20TH AUGUST 2017
Starting at the Old Goods Yard, Marsden at 10am a social ride which will take you past the Rose & Crown Cop Hill, Slaithwaite.  Entry fee is free for members and £10 for non-members but will include KBG membership.
Entry forms must be completed (download from the link below) and closes on Thursday 18th August, 2017
You must have third party insurance to attend the ride and must wear fluorescent clothing/tabard.
ENTRY FORM FOR MARSDEN SOCIAL RIDE
SUMMER CAMP 22ND & 23RD JULY 2017
at Australia Farm, Wilshaw, Holmfirth (by kind permission of Lucy Bamforth)
This event is for members only.
Saturday: starting at 11am is a Social Ride, followed by an agility course in the indoor arena (after a break for lunch) Both of these events are free for fully paid up members.
Saturday Evening from 6pm is a BBQ
Sunday: Lucy Phillips will be booking for treatment session which are £45.00
All events must be pre booked contact Janet on 07816015243
LUCY PHILLIPS DEMO 21ST JULY 2017
Open to all …………..
Friday 21st July 2017 from 7pm, at Australia Farm, Wilshaw, Holmfirth.Lucy Phillips, Manipulation Practitioner demonstration.
Learn how to assess your horse's gait professionally. We will be assessing walk trot ups with tape markers on the horse to concentrate your eye to certain landmarks.
Then watch a McTimoney demonstration and assess the horse's gait again for changes.
Finally Lucy will be demonstrating rehab exercises to help strengthen your horse's core muscles
Entry is £5 members and £7.50 non-members Pie & Peas can be purchased at an extra £5
Tickets and supper must be booked in advance with Janet 07816015243
SOCIAL RIDE FROM ARMITAGE BRIDGE
This circular ride sets off from Armitage Bridge using urban, rural and riverside roads / lanes / tracks. It passes through Lockwood, Crosland Moor, Milnsbridge, Longwood, Scapegoat Hill, Golcar Linthwaite and South Crosland.
Due to the nature of the ride, groups will be of no more than six as we will be riding short stretches on busy roads and also crossing some main roads. This means that pre-booking is essential.
We will be stopping for a picnic lunch so please allow around 4 to 5 hours for the ride and bring a packed lunch.
From Meltham Road take the B6110 (Armitage Road) and turn left at the top of Dean Brook Road towards One17 Design, parking suitable for trailers and up to 3.5 tons is in the field on the right. Larger vehicles will be directed to suitable parking. From Woodhead Road, drive through Armitage Bridge and at the junction of Dean Brook Road and Armitage Road go straight forward towards One17 Design.
Armitage Bridge Ride Entry Form
armitage bridge 25 June MAP FOR DIRECTIONS7
BRIDLEWAY CLEARANCE/WORK PARTY/SOCIAL CURRY
The BHS Ride out UK covers the whole of May, this year we are organising a work party/clearance at Blue Bell Wood, Meltham, on 12th May, meeting at Bent Ley Road, Meltham at 6pm to car share to the wood. After the clearance we are going to the Pink Elephant in Meltham for a curry, every one welcome. Please call or text 07590578831 if you would like a place booking for a curry.
SOCIAL RIDE
A Social ride of around 2 to 3 hrs around the Briesfield area to kick off the riding summer season. Please meet at Mug Mill Farm on Sunday 23rd April, 2017.ENTRY FORM FOR THORNHILL SOCIAL RIDE
All riders must complete an entry form and send with the correct entry fee of £5 for KGB members or £10 for non-members, a rosette will be awarded on completion.
Download your entry form from our web site www.kirkleesbridlewaysgroup.co.uk
You must have third party insurance to attend the ride and must wear fluorescent clothing/tabard.
Direction s to venue (please do not follow sat nav and post code)
From Grange Moor, follow Briesfield Road, right at Low Road, right at Edge Road, right on to Mug Mill Road.
OFF ROAD RIDING EVENT
Saturday 25th March, 2017, we are holding a local bridleways workshop from 10am to 3pm at The Crossroads Centre, 51 Holmfirth Road, Meltham. HD9 4BX (opposite the Fire Station)  Everyone members and non members welcome to drop in, our team can help you explore off-road riding opportunities in Kirklees .  This will be a chance to meet the BHS West Yorkshire and Kirklees Bridleways Group teams and help us discover potentially lost ways in your locality. Light refreshments will be available.
AGM REPORT
Great to get such a good turnout again this year.
Thank you to Graeme Bruce for your helping with recording our routes on our mobiles phones.
pompops (Sue & Sarah Bullas) for bringing a wide range of hat covers and donating a raffle prize.
Other raffle prize's included donations from Hey Farm Saddlery, Pets at Home, Trycyling and Halfords.
Thank you all for your continued support; Save Our Tracks!!
ANNUAL GENERAL MEETING
Wednesday 1st February, 2017 at Meltham Gold Club, Thick Hollins Hall, Meltham HD9 4DQ
The AGM will start at 7pm prompt, a short break at 7.45pm followed by a talk and demonstration at 8pm.
Graeme Bruce (Darwin and North Bolton Bridleways Association) has offered to deliver a hands-on presentation on how we can record the routes we ride on our mobile phones;"Equestrian Access Mapping Overview". Make sure your mobile phone is fully charged!!
EVIDENCE & SOCIAL EVENING
Tuesday 8th November, 2016 from 7pm in the upstairs room at the Bulls Head, Linthwaite, Huddersfield.
All welcome, members and non-members, please come along to our evidence and social evening, if you are able to fill in an evidence form that would be great or even just come for a drink and a natter.
CHRISTMAS DINNER
Kirklees Bridleway Group Christmas Dinner to be held at Meltham Gold Club,
Thick Hollins Road,
Meltham,
Holmfirth.
The evening will start at 7pm
Our after dinner talk will be hosted by Catriona Cook MBE, Catriona is the County Access Officer from 1985 and the Yorkshire Regional Officer since 1994. She has represented the BHS at the Rights of Way Review Committee and Chair's the Byways and Bridleways Trust. She has added some 100 miles of byways and bridleways to the definitive map and organised four "journeys for access" covering long distance rides and urban riding and raising £12,500 for legal cases. In July this year Catriona (66), Venetia Cragg(76) and Elsa Greaves(66) rode 250 miles from Dartmoor West De
von via East Devon, through to Dorset to finish at Burley in the New Forest in Hampshire. 16 days to raise the profile of the 2026 cut-off-date. This is the date when all unrecorded public rights of way are to be extinguished by statute.
Tickets are £20 for a 3 course meal inc coffee & mints.The event is open to members and non members.Please note that the dress code for this event is smart (no trainers, jeans, collarless t-shirts or caps)If you would like a ticket please either:
email – kirkleesbridlewaysgroup@gmail.com
Telephone/text – 07780530550
or for any other information message the Kirklees Bridleways Group facebook.
Straightness Training Explained
Talk & demo Friday 30th September, 2016 6.30pm …… £5
Dawn Rothwell BHSII, STRM, ESTRM MSTO
Dawn Rothwell set up ETS several years ago and runs a private pain and sports therapy clinic at her farm in Saddleworth for both human and equine.
Dawn has worked in the equine industry for 34 years as a BHS Instructor, Dressage Trainer and Behaviourist. Having qualified 8 years ago in human and equine sports therapy and remedial massage Dawn is now very well respected in both the equine and sports industry as a knowledgable therapist. She currently works with 3 premier league football clubs including Everton FC and Man City FC and regularly travels the UK and Europe to treat horses and humans as well as speaking at numerous conferences. Over the last 12 months she has been regularly treating the UK's well known trainer and body worker Richard Maxwell and his horses in Essex. Dawn has 4 horses of her own and is about to start competing at BD again this year, after a long break with her young horse "Gus" who has been trained from an early age in straightness work.
Whether you're a happy hacker, dressage rider or keen show jumper, there will probably be a point in your horses life when he suffers with either back pain, jaw pain, neck, poll and shoulder pain or lameness.
What can you do to help avoid these issues and reduce the large Vet/Physio bills that follow?
There is a lot of information and training courses advertised on the web these days on straightness training etc., but do you always understand the concept behind the training and is it only for the performance horse?
On the evening talk I will demonstrate what happens to you and your horse when either of you are not working straight and show you a simple way to correct these issues to prevent further pain and discomfort. The training I will show you is my own interpretation and has been put together by years of working with horses and riders that have experienced difficulties as well as my knowledge of the musculoskeletal system.
The demonstration and talk will last approximately 2hrs.
BRIDLEWAY CLEARANCE AT SOUTH CROSLAND 8TH OCTOBER 2016
Bridleway clearance: meet at the water troughs at South Crosland, between Midway and Top O Hill.
This is short bridleway that needs clearing so if you can come, especially if you ride it! meet at 10am on the 8th October. Gloves are all that's needed.
Enquiries 07733188305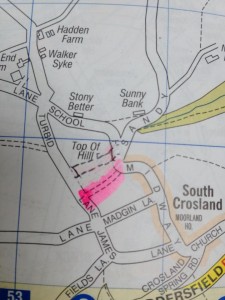 HONLEY FEAST SOCIAL RIDE 18TH SEPTEMBER 2016
A social ride for all in conjuction with the Honley Feast celebrations.
The ride will start at Woodnook Arena Car Park, at 10am, Westfield Farm, Meltham Road, Honley, Holmfirth by kind permission of Mr & Mrs PJ Mellor. No dogs allowed.
This will be a lead ride which will incorporate Honley Wood, riding in picturesque scenery and passing our own film studio in Armitage Bridge to name a few, and will last approximately 2hours.
Correct Headgear and flourecent tabard must be worm. If you require food or drink please bring your own with you.
This event is open to members and non-members, the entry fee is £5 members, and £10 non-members.
Entry closes on 17th September for this event
Honley Feast Social Ride entry form.doc2
SOUTH CROSLAND CIRCULAR RIDE 11TH SEPTEMBER 2016
This event is open to all and in conjunction with the Work & Ride Pennine Prospects.
The ride will be a circular ride starting from Crosland Hill Airfield by kind permission of Mrs S Chadwick, where there will be parking available (No dogs). It will be approximately 2hrs and around 8 miles in length, which can be escorted or non-escorted. (A route will be issued at the start)
Please note correct headgear and flourcecents must be worn.
Own horse and equipment required for this event, please bring your own food and drink.
Pre entry is required for this event.
Entry fee is £10 for non-KBG members but free for members
South Crosland Circular Ride entry form
SOCIAL RIDE SUNDAY 4TH SEPTEMBER 2016
Social ride open to members and non members, the ride will be around 3hrs long, with a stop for lunch if required. The ride will take in quiet roads and tracks and part of the Trans Pennine Trail no busy roads!
Meeting at Farnley Tyas, Huddersfield. By kind permission of Mr John Dodson
Directions – Through Farnley Tyas along Butts Road, past the recreation ground, at the next crossroads it becomes Thurstonland Road. Parking is in the field about 200metres on the right (Honley Show ground).
Weather updates will be posted on Facebook ☔️☀️
Please bring your own food and drink if required.
Entry fee is free for fully paid up KGB members and is £5 for non members.
For further information and to book your place ring 07733188305
Pre entry required for this event
ENTRY FORM FOR FARNLEY TYAS SOCIAL RIDE
24th July Members Only Social Ride
Please meet at 10.30am on Sunday 24th July, 2016 for a social ride which will take in the scenery around Castle Hill, the ride will last approximately 1 1/2 to 2 hours.
Meet at the forecourt of Big Valley Garage, Armitage Bridge, Huddersfield.
This event is for KBG members only.
For further details email kirkleesbridlewaysgroup@gmail.com
17th July Bridleway Clearance:
Please meet on Sunday 17th July, 2016 at 10am
Venue: Junction of Springwood Road and Stoney Bank Road, Thongsbridge, Holmfirth
please come with a pair of gloves everything else will be provided.
5th June
Kirklees Bridleways Group Pleasure Ride
Venue: Farnley Estates, Farnley Tyas, Huddersfield
8.30am to 1.30 pm
BHS RIDE OUT WEEK click here
24th May
Big Fashion Show
Venue The Huntsman Inn, Holmfirth,
Doors open at 6:30pm and fashion show starts at 7:15pm.
7th April
Pie And Peas Night
Meltham Golf Club
View more details here
21st March
Evidence and Social Evening
Venue The Bulls Head, Blackmoorfoot HD7-5TR upstairs.
7pm onwards: Informal Drop in event.
________________________________
Previous Events
2015
20th September
South Pennine Walk & Ride
For more info please visit our facebook page
14th May
The BIG Fashion Show
24th May
Pennine Rendezvous
13th June
Honley Show
_____________________________________________________
2014
2nd November 2014.
Bridleway clearance
Hassocks. Meltham. 11 O'Clock.
25th November 2014.
Kirklees Bridleways Group Meeting
The Bulls Head, Blackmoorfoot Road
7.20pm