7th July. Ride Out UK £100 raised for BHS Paths for Communities Fund. The Farnley Estate.
30th June 2019. Open day at Oakwell Hall with Ride Kirklees.
Honley social ride 1st June
Pass Wide and Slow Marsden. National Campaign held on 14th April 2019
Platinum Christmas Dinner Celebration with Bob Champion
FARNLEY TYAS SOCIAL RIDE 22 SEPTEMBER 2018
Bridleway Clearance September 2018
WESSENDEN VALLEY SOCIAL RIDE AUGUST 2018
YATEHOLME SOCIAL RIDE JULY 2018
ARMITAGE BRIDGE CIRCULAR JUNE 2018
FARNLEY ESTATES RIDE – BHS RIDE OUT WEEK MAY 2018
BRIESTFIELD RIDE APRIL 2018
LOCAL BRIDLEWAYS WORKSHOP MARCH 2018
ANNUAL CHRISTMAS DINNER 13TH DECEMBER 2017 AT MELTHAM GOLF CLUB
RIDE AROUND BRIESFIELD ON 23RD APRIL 2017
BRIDLEWAYS WORKSHOP SATURDAY 25TH MARCH, 2017
2016 CHRISTMAS DINNER 30TH NOVEMBER AT MELTHAM GOLF CLUB
HONLEY FEAST RIDE FROM WOODNOOK, HONLEY, HUDDERSFIELD, SEPTEMBER 2016
SOUTH PENNINE WALK AND RIDE FESTIVAL AT CROSLAND MOOR AIRFIELD, HUDDERSFIELD
September 2016
Bridleway clearance Crosland Hill August 2016
Bridleways Clearance at Tenter Hill,Thongsbridge/New Mill July 2016 – photos show before and after clearance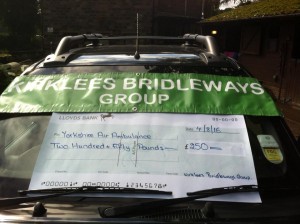 Cheque presented to Yorkshire Air Ambulance August 2016 – Funds from the helicopter ride which was auctioned at the Fashion Show in May 2016.
SUMMER CAMP AT AUSTRALIA FARM JUNE 2016
Fashion Show May 2016 at the Huntsman Inn